Whether you've already booked your stay, or are thinking about it, we want you to experience a worry free vacation.
That's why Sandals Resorts features best practices and policies designed to put your mind at ease. Whether it's a booking you already have or one you make right now, rest assured that we've got you covered.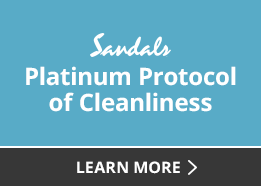 Free Room Cancellation
Free Room Cancellation And Get 100% Refund.
Free room cancellations for reservations cancelled 31 days or more prior to check-in date (with the exception of the Over-The-Water Suites). This is only applicable to the land/room portion of the booking. Flight cancellations are subject to airline carriers' penalties and restrictions.
*Cancellation policy may vary for Loyalty & Travel reservations. View
Terms & Conditions
Limited Time Only
Change Your Vacation Dates With No Penalties
For bookings scheduled to travel between now and June 3rd (Jamaica, Antigua, St. Lucia, Grenada, and Barbados), and now and June 30th (The Bahamas):
We are allowing complete name changes without penalties for the original date & resort of travel. This means you can change all the names on the booking with new names without penalties. Please refer to Airline Carrier policies for flight changes/cancellations as these may vary.
Bookings traveling within the above date frame will be allowed to reschedule their trip up to 12 months out from their original travel dates and we will protect their original rate in same category & resort. Please note, Christmas and New Year black-out dates apply.
Confirmed prizewinner bookings traveling within the above time frame can revise to travel within 6 month from original travel dates (*based on availability).
Prizewinners certificates that have not been redeemed and are expiring by June 4th, 2020 can be extended for travel for an additional 6 months from expiration date.

*Contracted groups are bound by different payment and cancellation terms.
Book With Confidence That You're Getting The Best Rates.
Our Best Price Guarantee allows you to feel certain that the room rate you receive is the best price for your Sandals vacation. You can book with confidence online, through your favorite travel agent, or by calling 1-888-SANDALS.
If within 24 hours of booking your online vacation at www.sandals.com, you find a lower price for the same arrival date, number of nights and room accommodations we will refund the difference.
Hold Room Today For Only $49PP
We Offer A Convenient Hold Option To Assist With Your Travel Planning.
Qualifying bookings will have the option to "hold the room" for as little as $49pp. If you select the "hold" option, the credit card used for the deposit will automatically be charged an additional $302 in 21 days. The total remaining balance of your vacation will automatically be charged 45 days prior to check-in date.
Best Offer Automatically Applied
Enjoy Worry-Free Booking When You Book Online.
Our online worry-free booking means that the best rates, discounts, and credits are automatically applied* by our booking engine, so you can rest assured that you're getting the best possible price.
*Gift offers still require guests to fill out a registration form to qualify.
Layaway & Playaway Program
Layaway & Playaway Program
A Flexible & Interest Free Way To Pay For Your Vacation.
Lock in your next vacation with our flexible and affordable no fees and no interest payment plan! Now you can spread the cost of your Luxury Included® Sandals vacation over a number of months! When you book direct with Sandals, you can choose to pay the total amount of your vacation in 3- to 24-month installments.
How It Works:
Book your vacation and pay required deposit.
Select payment installment option (3 to 24 months).
Automatically charge a card on file every 30 days.
Pay off balance 45 days prior to travel.
Enjoy paradise at Sandals!
View Details