Flight Service to Montego Bay Airport (MBJ)
| | | | |
| --- | --- | --- | --- |
| Gateway | Airline | Schedule | Duration |
| Atlanta (ATL) | | Daily | 2hr 50min |
| Baltimore (BWI) | | Daily | 3hr 35min |
| Boston (BOS) | | Sat | 4hr 20min |
| Boston (BOS) | | Sat | 4hr 20min |
| Charlotte (CLT) | | Daily | 2hr 55min |
| Chicago (ORD) | | Daily | 4hr 10min |
| Chicago (ORD) | | Sat, Sun | 4hr 05min |
| Chicago (MDW) | | Daily | 3hr 50min |
| Dallas (DFW) | | Daily | 3hr 50min |
| Detroit (DTW) | | Sat | 4hr 00min |
| Edmonton (YEG) | | Fri | 6hr 20min |
| Ft. Lauderdale (FLL) | | Daily | 1hr 40min |
| Ft. Lauderdale (FLL) | | Daily | 1hr 40min |
| Ft. Lauderdale (FLL) | | Daily | 1hr 40min |
| Ft. Lauderdale (FLL) | | Daily | 1hr 40min |
| Halifax (YHZ) | | Sat | 5hr |
| Houston (IAH) | | Daily | 3hr 20min |
| Los Angeles (LAX) | | Fri, Sat | 5hr 40min |
| Miami (MIA) | | Daily | 1hr 43min |
| Minneapolis (MSP) | | Mon, Tues, Wed, Thurs, Fri | 4hr 40min |
| Montreal (YUL) | | Mon, Fri, Sat, Sun | 6hr 30min |
| Montreal (YUL) | | Sat, Sun | 4hr 35min |
| Montreal (YUL) | | Thu, Sat | 4hr 20min |
| New York City (JFK) | | Daily | 3hr 45min |
| New York City (JFK) | | Daily | 4hr 00min |
| New York City (JFK) | | Daily | 4hr 00min |
| Newark (EWR) | | Sat, Sun | 4hr 10min |
| Orlando (MCO) | | Daily | 2hr 00min |
| Orlando (MCO) | | Daily | 2hr 00min |
| Ottawa (YOW) | | Sat, Sun | 6hr 30min |
| Philadelphia (PHL) | | Daily | 3hr 55min |
| St. Louis (STL) | | Daily | 5hr 05min |
| Toronto (YYZ) | | Daily | 4hr |
| Toronto (YYZ) | | Daily | 4hr 5min |
| Toronto (YYZ) | | Daily | 4hr |
| Toronto (YYZ) | | Daily | 4hr 5min |
| Washington, D.C. (IAD) | | Sat | 3hr 45min |
| Winnipeg (YWG) | | Sat | 6hr 20min |
| Winnipeg (YWG) | | Sat | 6hr 15min |
Flight Service to Kingston Airport (KIN)
| | | | |
| --- | --- | --- | --- |
| Gateway | Airline | Schedule | Duration |
| Ft. Lauderdale (FLL) | | Daily | 1hr 45min |
| Ft. Lauderdale (FLL) | | Daily | 1hr 45min |
| Miami (MIA) | | Daily | 1hr 50min |
| New York city (JFK) | | Daily | 3hr 50min |
| New York city (JFK) | | Daily | 3hr 50min |
| Toronto (YYZ) | | Thu, Sun | 4hr 10min |
| Toronto (YYZ) | | Mon,Thu, Sun | 4hr 10min |
| Toronto (YYZ) | | Mon, Wed, Thu, Sun | 4hr 10min |
Flight Service to Ocho Rios Airport (OR)
| | | | |
| --- | --- | --- | --- |
| Gateway | Airline | Schedule | Duration |
| Miami (MIA) | | Wed, Sat | 1hr 57min |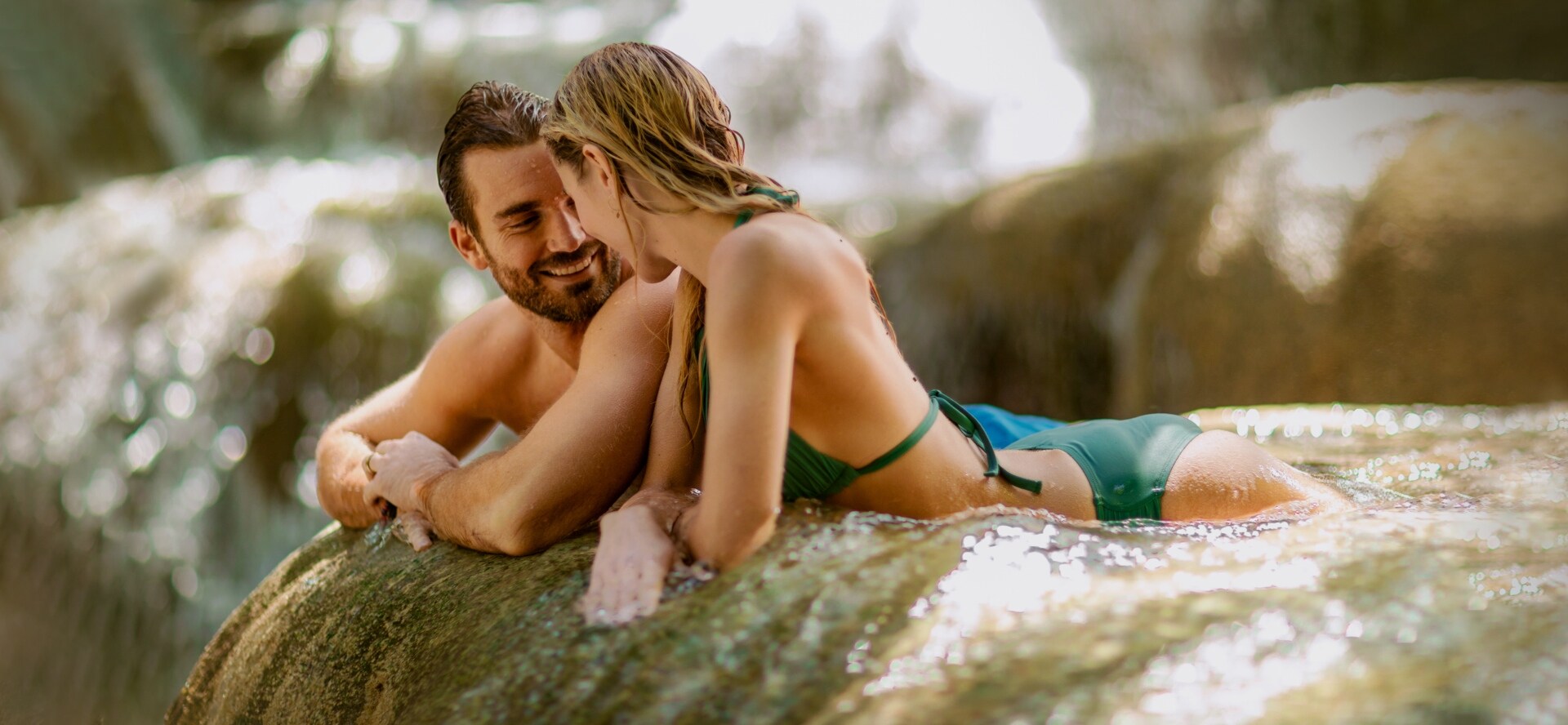 Sandals
Dunn's River
Let life flow
Let the allure of this magical place pull you in
On the north coast of Jamaica, rivers meander through forests and rushing waterfalls wash over the landscape. In this secluded spot, filled with the Earth's abundance, love flows naturally. Hand-picked by our founder for its pristine beach and its close distance to Jamaica's spectacular natural wonder… Now, completely reimagined, Sandals Dunn's River returns to the Sandals Family.
FOR ARRIVALS STARTING MAY 24, 2023
HOLD RESERVATION FOR ONLY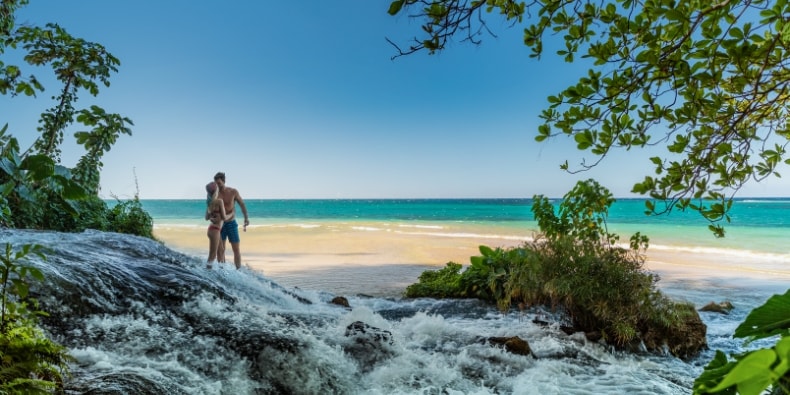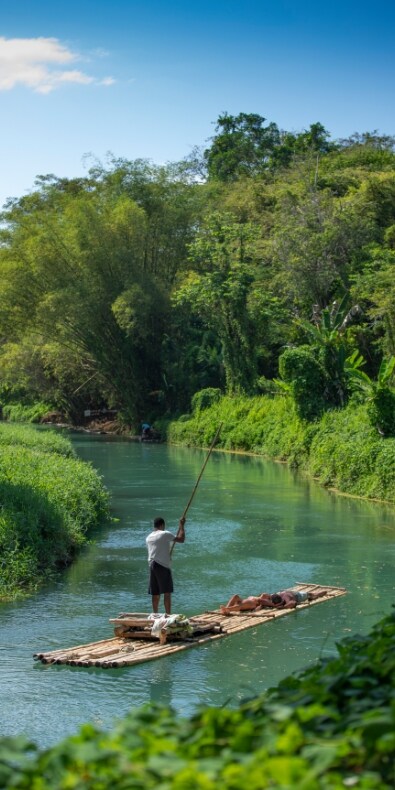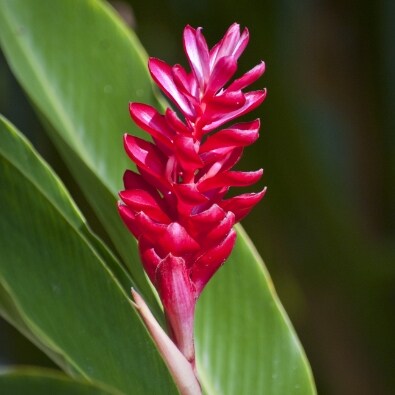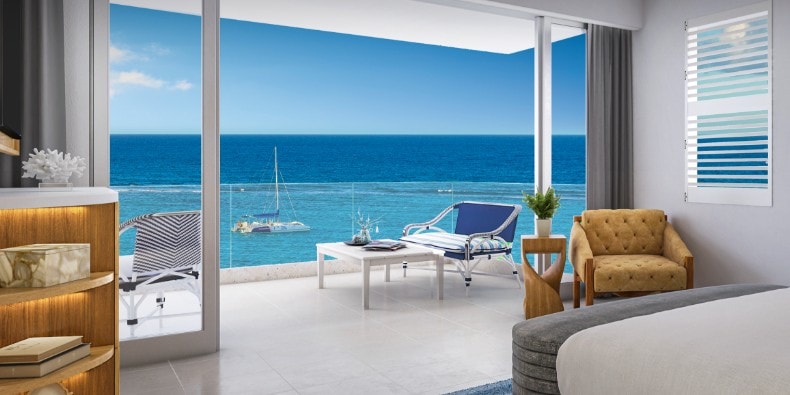 Sandals dunn's river
The most iconic resort in the heart of ocho rios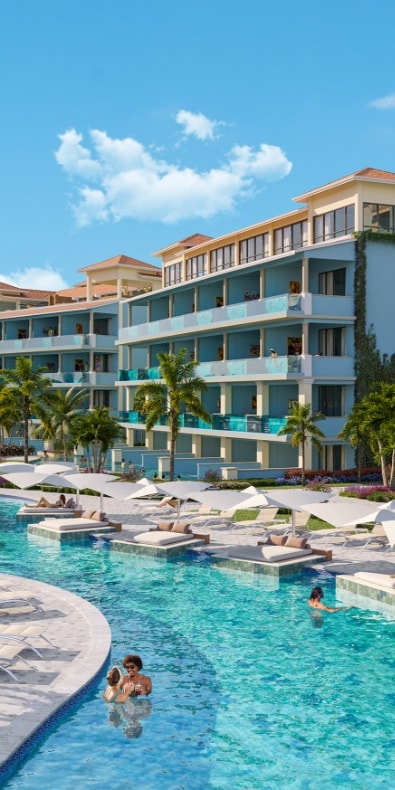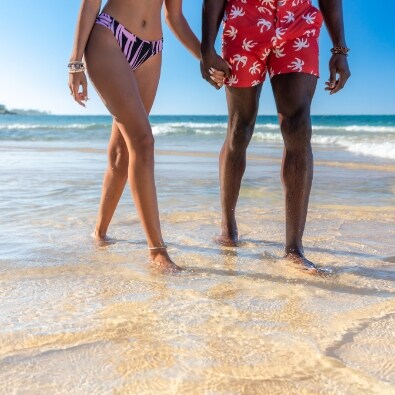 What's Included
At sandals dunn's river
Eat + Drink
• Unlimited fine dining at 12 restaurants
• Breakfast, lunch, dinner and anytime snacks
• Unlimited premium liquors
• 9 bars, including swim-up bar
• Stocked bar in every room
• Unlimited Robert Mondavi Twin Oaks® Wines
Play
• PADI-Certified SCUBA diving and equipment
• Unlimited water sports
• Snorkeling and equipment
• Professional instruction for water sports
• Unlimited land sports
• State-of-the-art fitness center
• Day and night entertainment and live shows
• 5 impressive pools
• 2 lengthy river pools
No worries
• All tips, taxes and gratuities
• Roundtrip airport transfers
• Wifi in room and all common areas
• Free wedding for stays of 3 nights or longer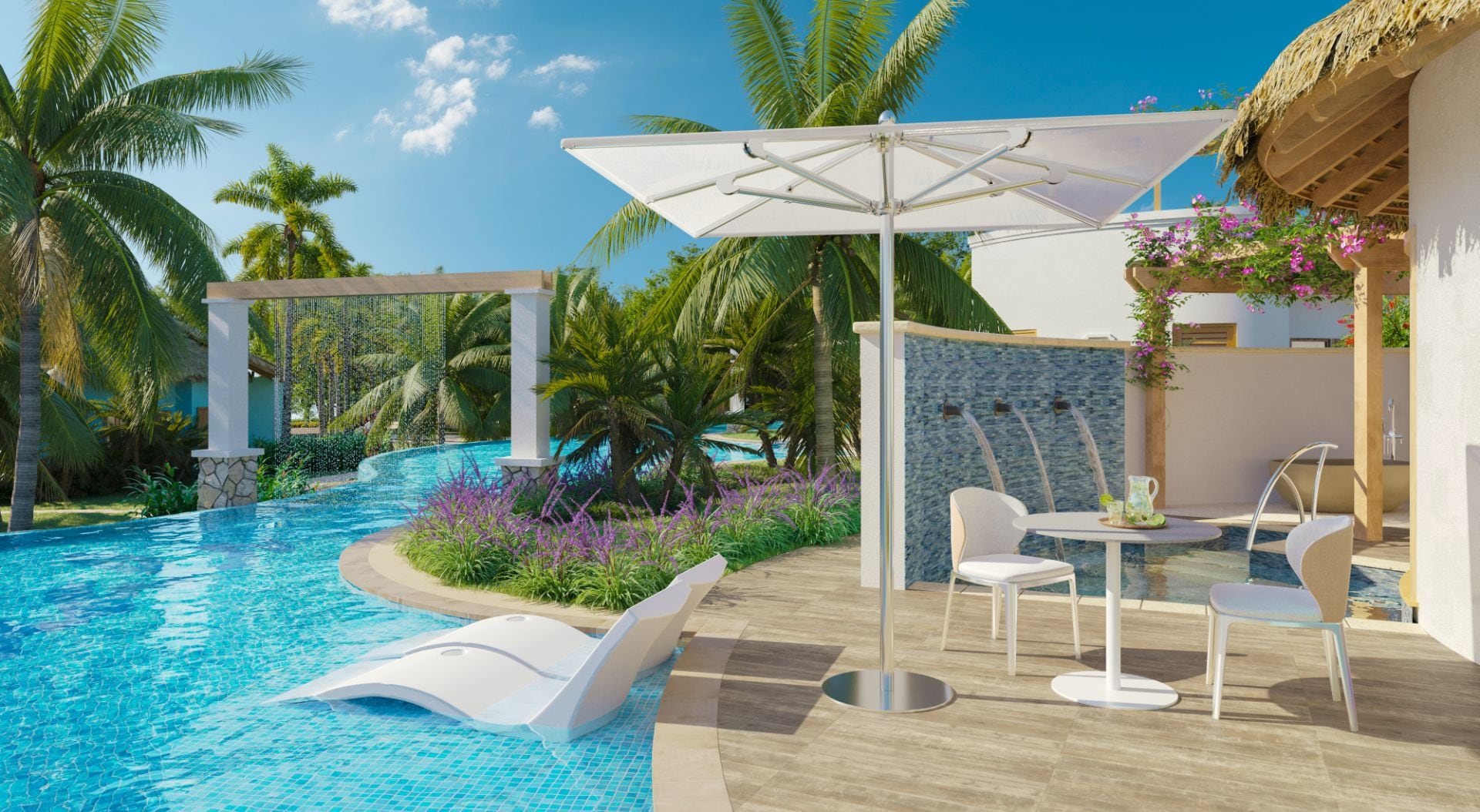 Rooms & Suites
One-Of-A-Kind Accommodations
Nature and luxury go hand in hand. Modern designs inspired by the stunning phenomenon of the Dunn's River - encapsulating the rainforest backdrop for this tranquil place, these accommodations have been elevated to new heights with Jamaica's native elements present in every experience across this luxurious all-inclusive resort.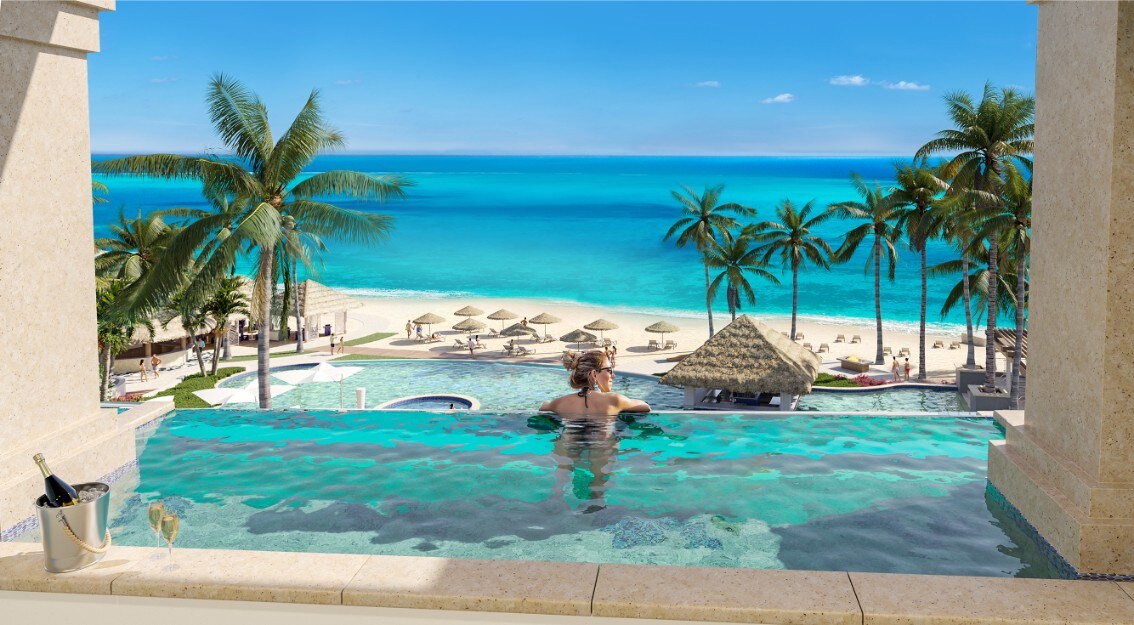 Beachfront Skypool Suites
Imagine stepping onto your balcony and laying eyes on an infinite shore. SkyPool Suites made their debut at the innovative Sandals Grenada. Now, Sandals Dunn's River will be home to Jamaica's first SkyPool Suites, the only one of its kind on the island. These SkyPool Suites are in a class of their own with a pool stretching across the length of the balcony, offering an impressive view of where the ocean meets the horizon.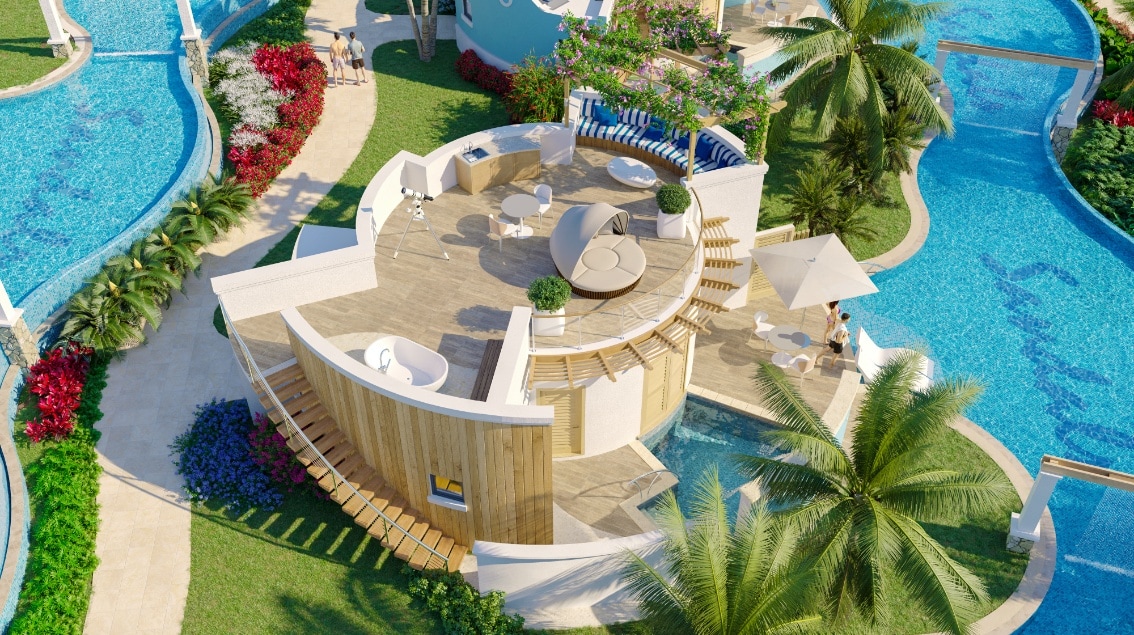 Coyaba Sky Rondoval Villas
A first of its kind, the Coyaba Sky Rondoval villas reinvent the state of luxury, with an oversized swim-up pool and a personal sanctuary boasting breath-taking open-air terrace atop these villas with stylish furnishings – all offering ways to enjoy the sun's warmth.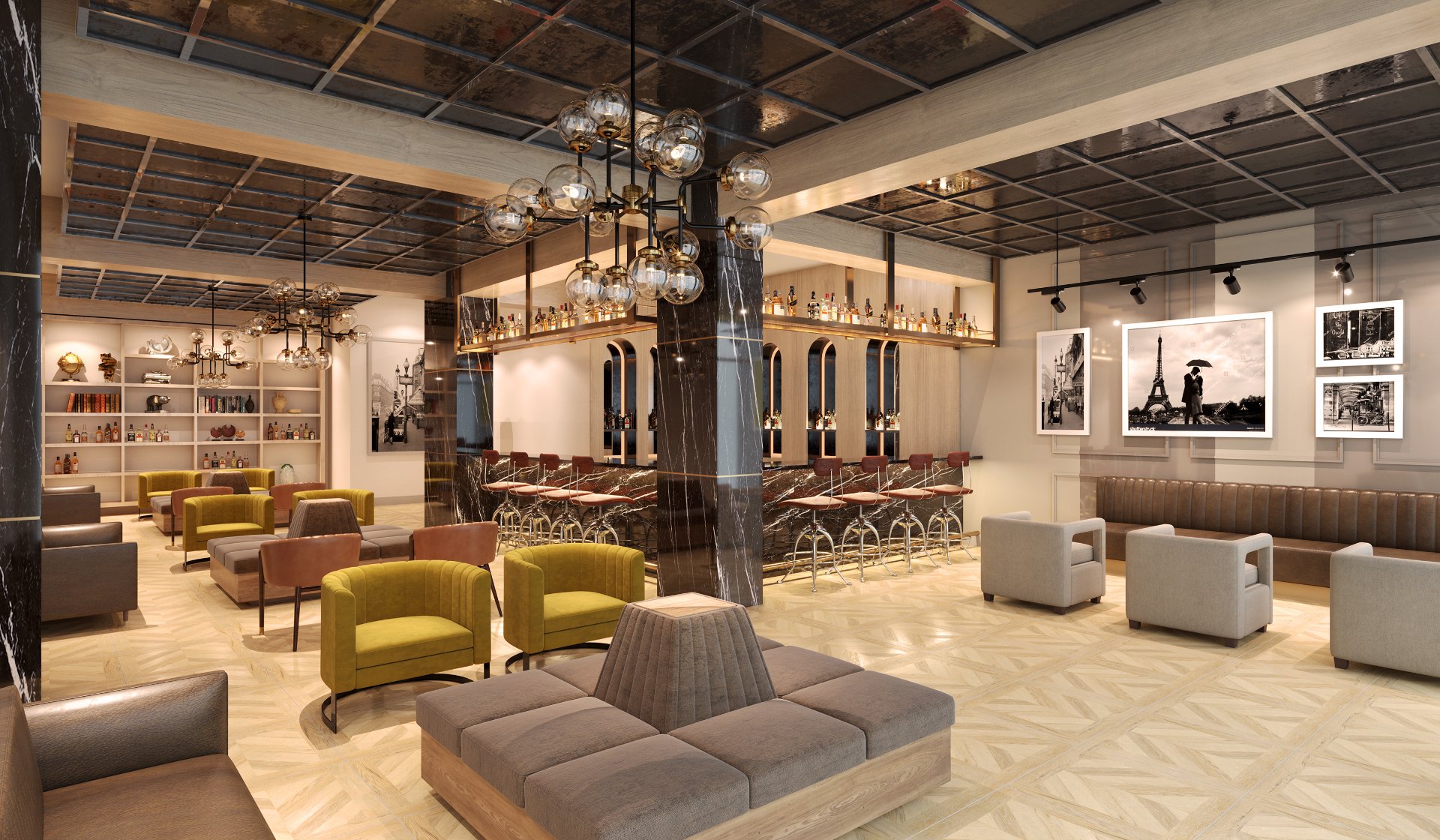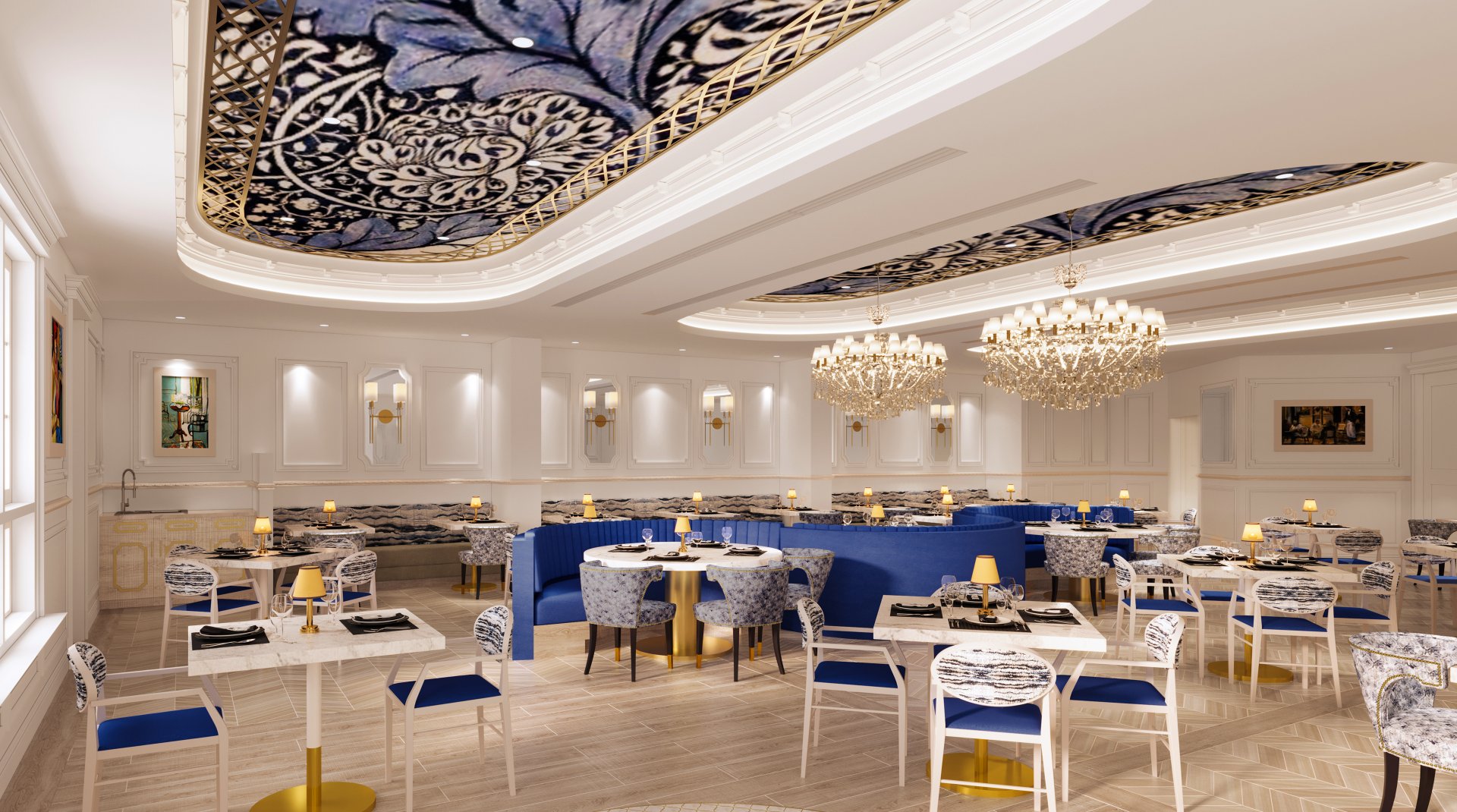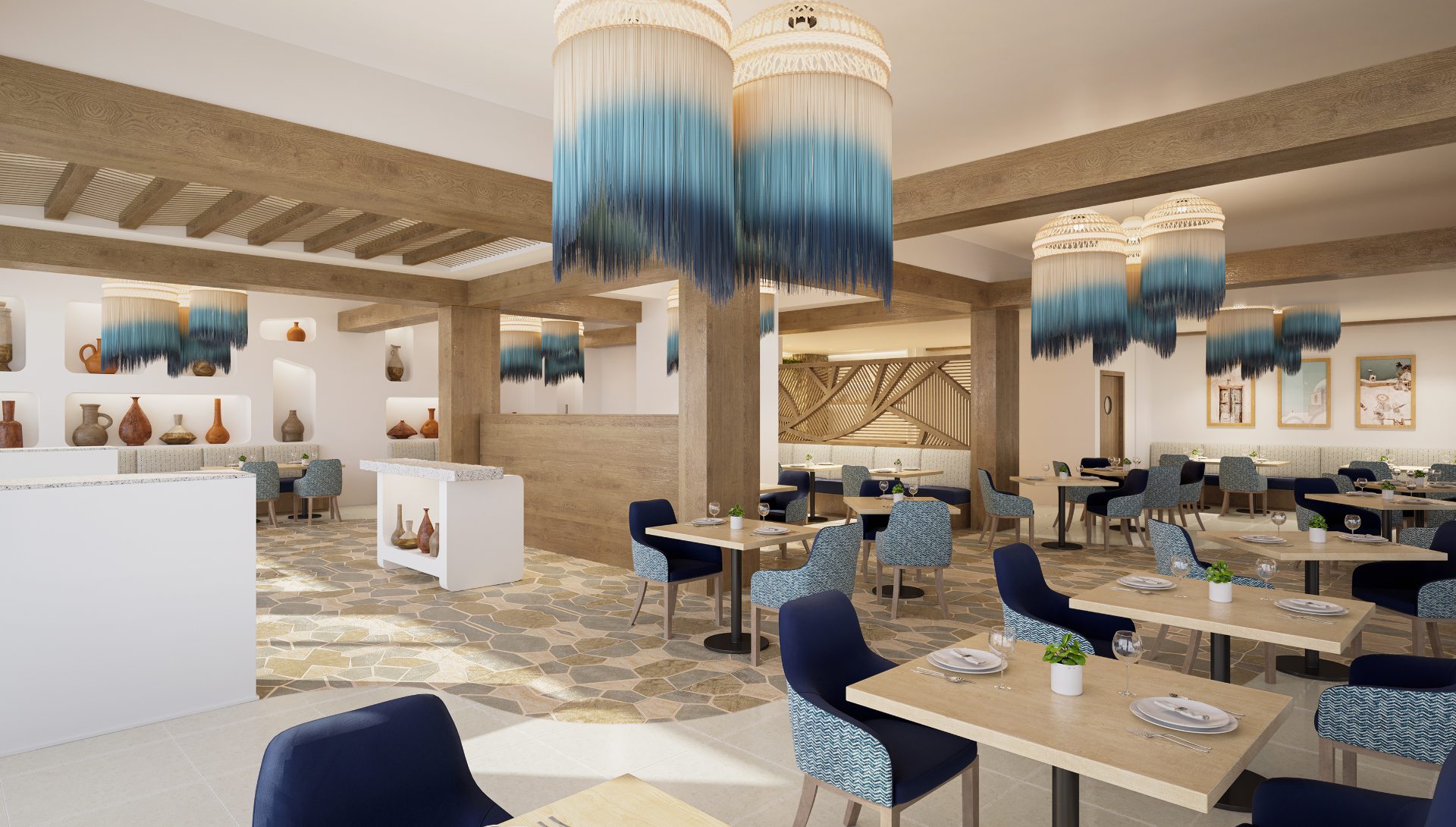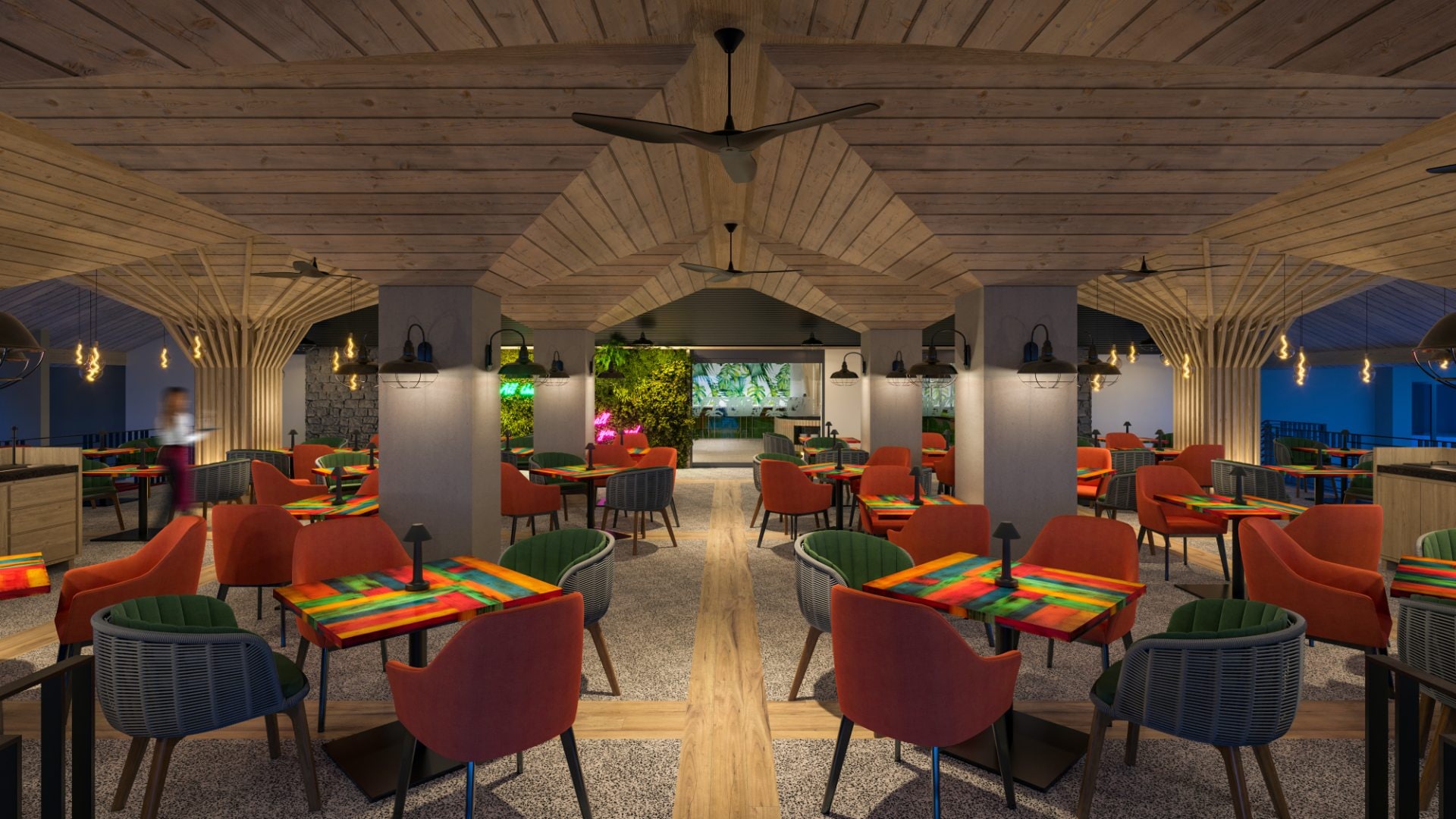 Dining
12 gourmet dining experiences
Savor an appetizing array of dishes and unique atmosphere at twelve unmatched Global Gourmet™ dining options that will take your breath away. Enjoy the irie spirit of new the specialty rum bar or the elegant setting of Edessa named for the ancient city of Edessa, comes from 'abundant water'.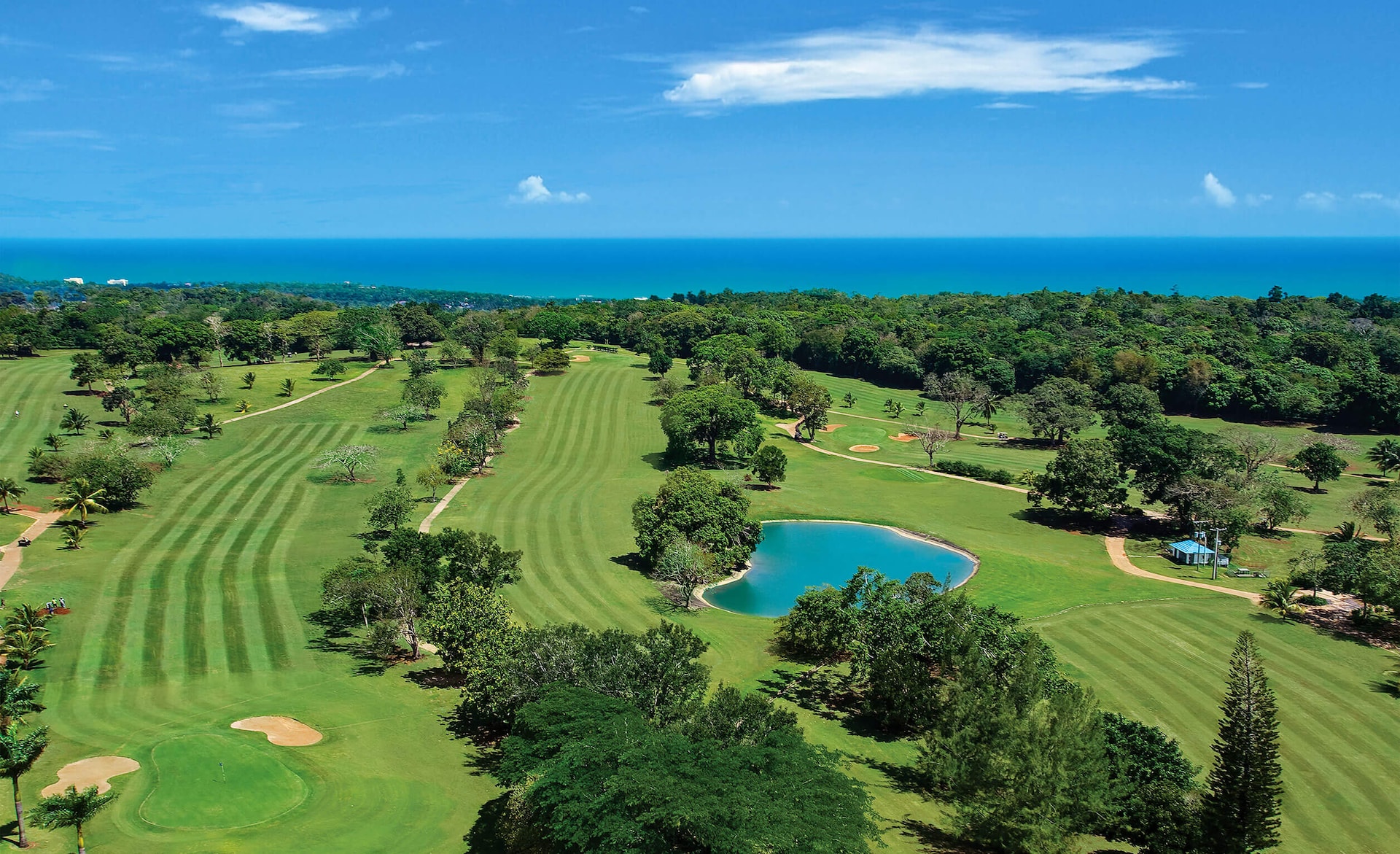 COMPLIMENTARY GREEN FEES
A luxury all-inclusive vacation at Sandals Ochi means access to one of the premier golf clubs in the Caribbean,
recognized as one of the finest in Jamaica by Golf Digest and Frommers Travel Guide. This scenic 18-hole course rises
700 feet above sea level in the lush hills of Ocho Rios, with a practice range, putting and chipping greens, pro shop,
restaurant, bar and jerk shack. Be a member of the club as you experience golf vacation perfection.
Recipient of a 4-Star
Rating by Golf Digest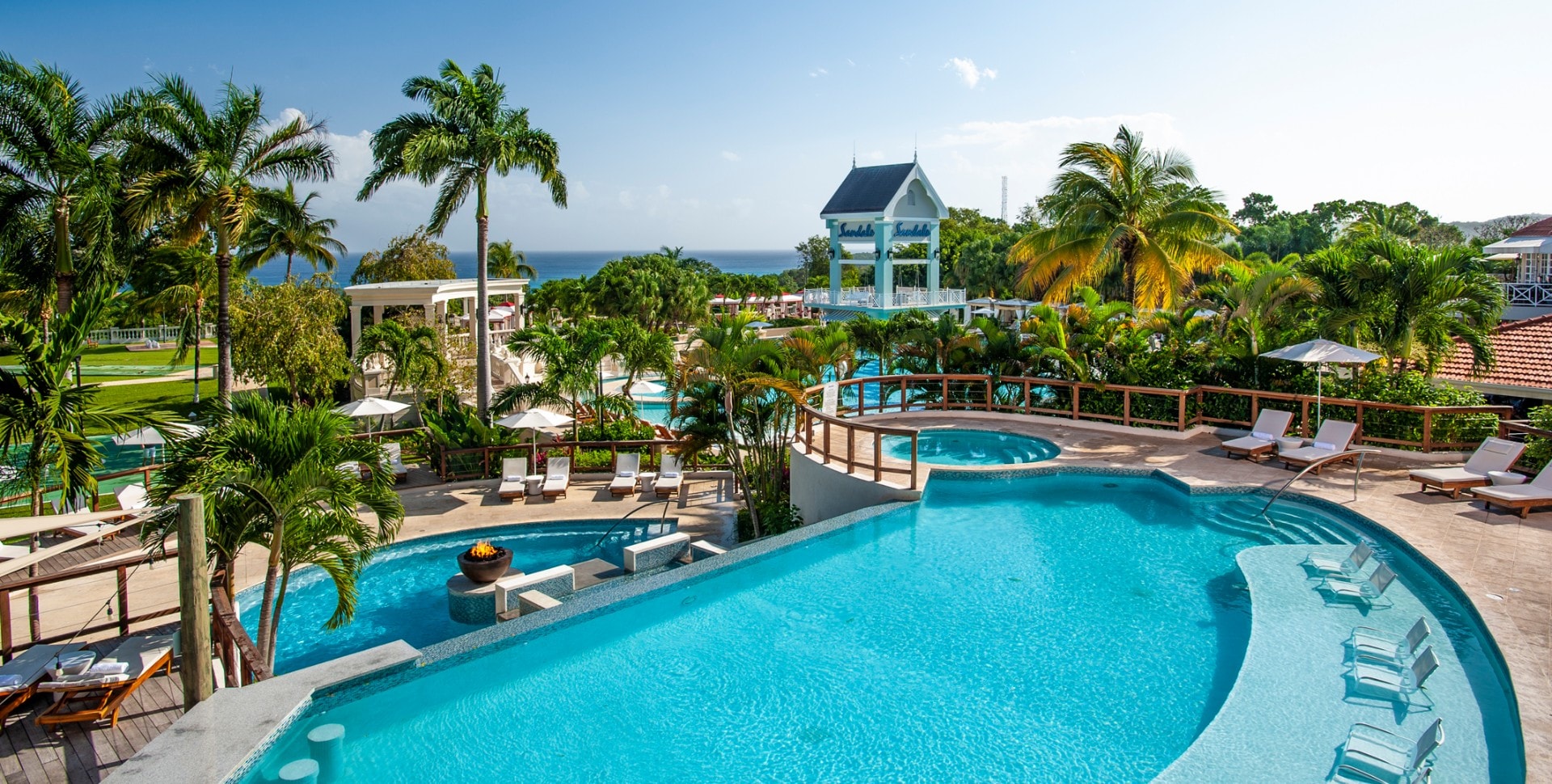 Stay At 1, Play At All
In Ocho Rios
When you stay at Sandal's Dunn's River, you enjoy a mega-vacation that includes two resorts for the price of one. Complimentary exchange privileges with nearby Sandals Ochi means you get to experience all the restaurants, all the beaches, and every amenity, with round-trip transportation included.
Sandals dunn's river
Sandals ochi
Feel the rhythms of the island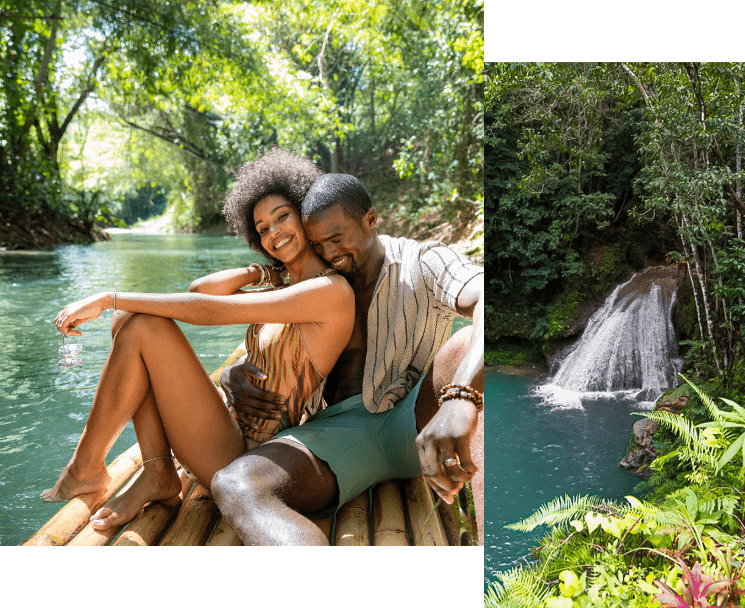 The Authentic Jamaica
Known as the land of wood and water, Sandals Dunn's River embraces its name in the wild foliage of the island growing throughout the resort. Meander along pathways with leafy banana trees, flourishing almond trees, and the monumental banyan trees that offer shade and relaxation.
Discover Saint Ann
One of the largest parishes in Jamaica, Saint Ann is the renowned home to natural and historical attractions including the famed Dunn's River. From exploring the Green Grotto caves to swimming with dolphins at Dolphin Cove, you can discover more at this coveted location.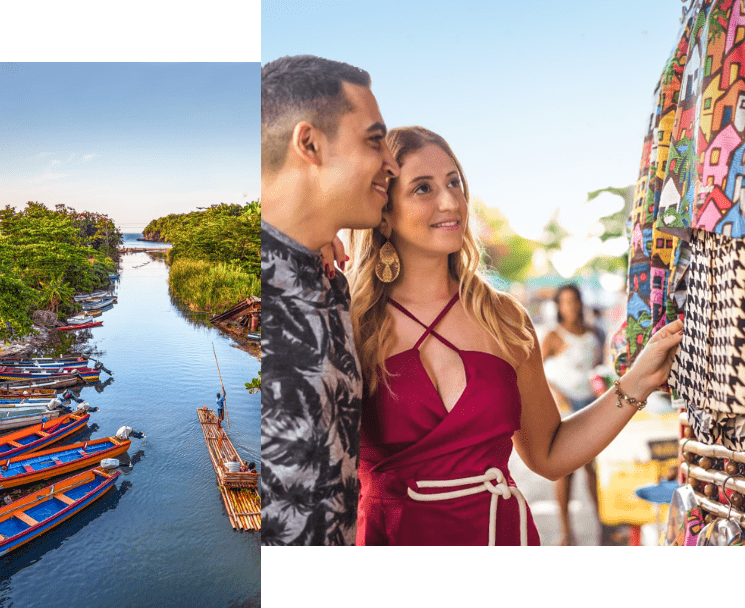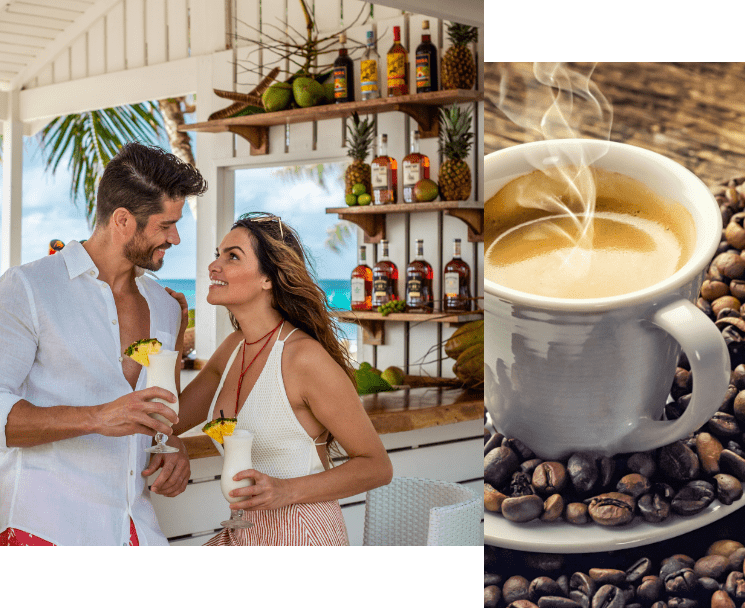 Jamaican Rum & Coffee
Sip Jamaican rums, expertly mixed with locally sourced ingredients like coconut creme made from our home-grown coconuts and fresh, island sugar cane, or sample traditional flavors of Jamaica Blue Mountain Blend Coffee. An unmatched flavor, garnering a reputation for being the world's best coffee. Jamaica's iconic rum crafted in the heart of the island, Appleton® Estate, is also served at Sandals Dunn's River.
Flight Service
Montego Bay
Kingston
Ocho Rios
Round-trip transfers from Montego Bay Airport (MBJ) to all Sandals Resorts in Jamaica are included.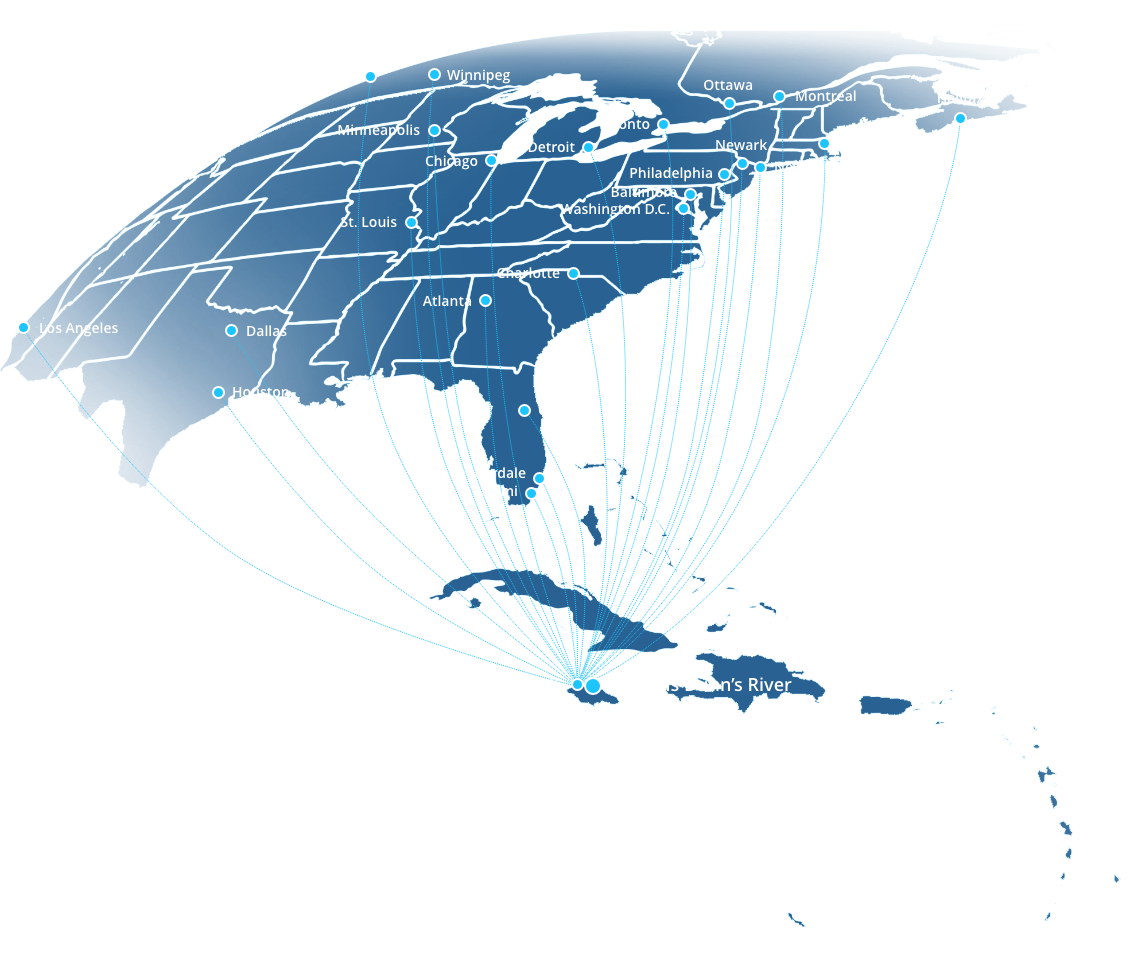 Round-trip transfer from Kingston Airport (KIN) to all Sandals Resorts in Jamaica are included.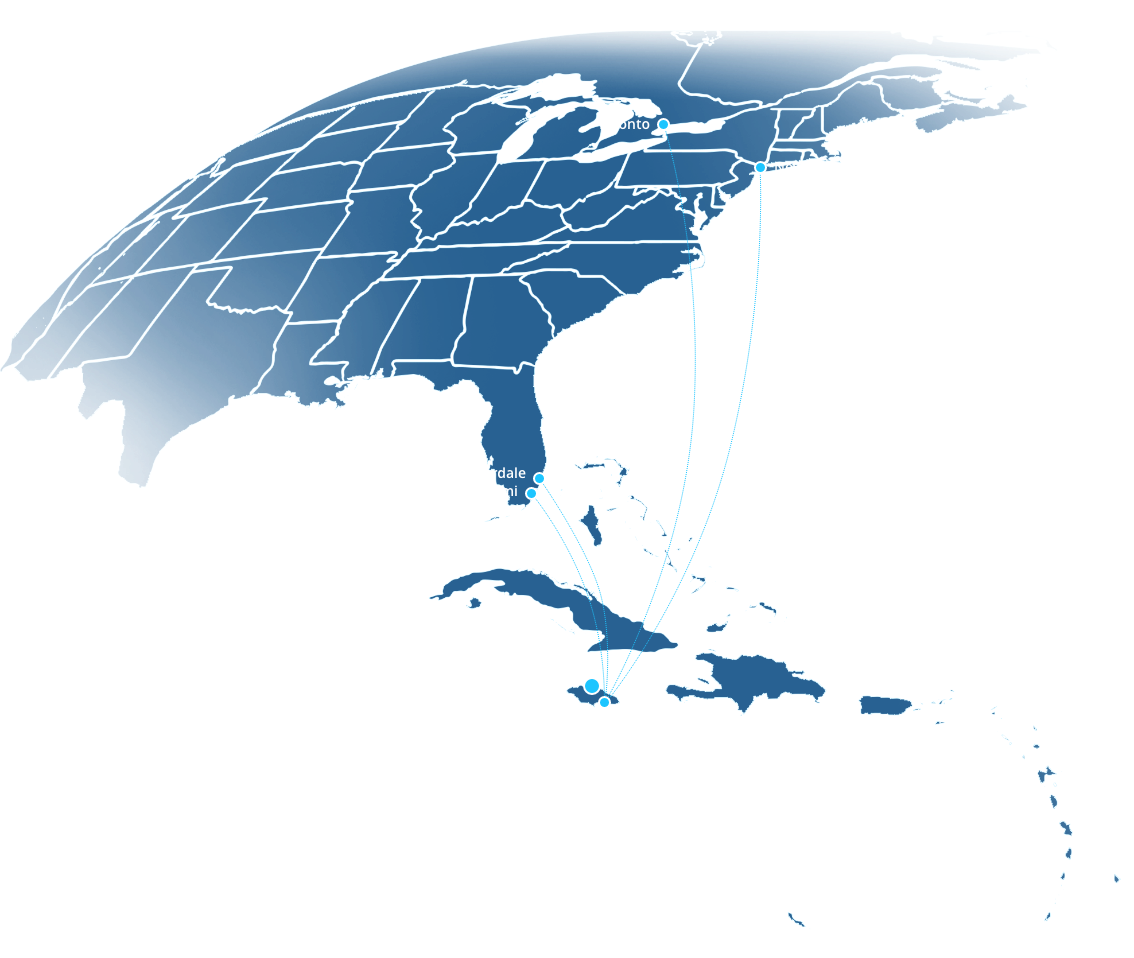 Round-trip transfer from Ocho Rios Airport (OR) to all Sandals Resorts in Jamaica are included.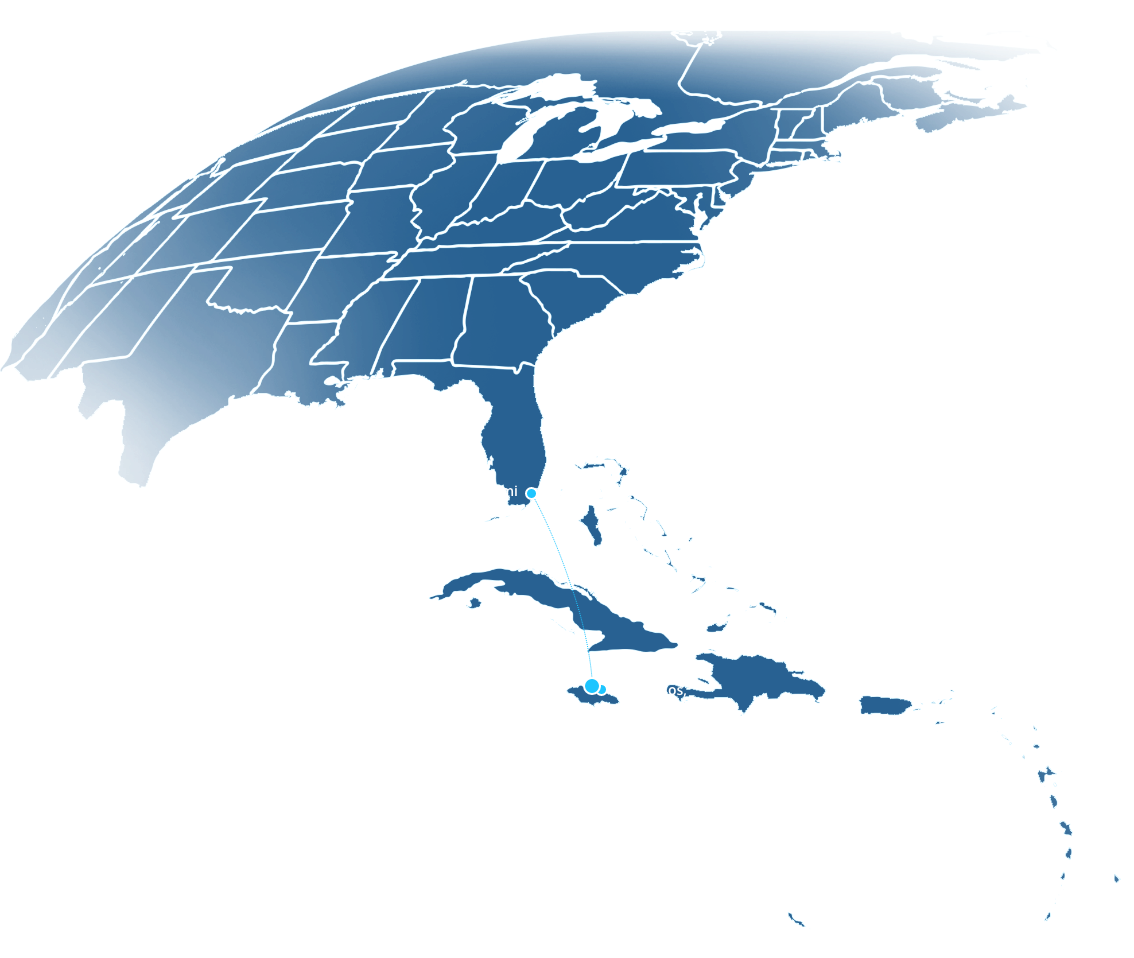 Resort Faqs
What happened to Sandals Dunn's River?
Are greens fees included at Sandals Dunn's River?
What airport do you fly into for Sandals Dunn's River?
Will guests of Sandals Dunn's River be able to visit Sandals Ochi?
Is Sandals Dunn's River couples-only?
Flight Service to Montego Bay Airport (MBJ)
| | | | |
| --- | --- | --- | --- |
| Gateway | Airline | Schedule | Duration |
| Atlanta (ATL) | | Daily | 2hr 50min |
| Baltimore (BWI) | | Daily | 3hr 35min |
| Boston (BOS) | | Sat | 4hr 20min |
| Boston (BOS) | | Sat | 4hr 20min |
| Charlotte (CLT) | | Daily | 2hr 55min |
| Chicago (ORD) | | Daily | 4hr 10min |
| Chicago (ORD) | | Sat, Sun | 4hr 05min |
| Chicago (MDW) | | Daily | 3hr 50min |
| Dallas (DFW) | | Daily | 3hr 50min |
| Detroit (DTW) | | Sat | 4hr 00min |
| Edmonton (YEG) | | Fri | 6hr 20min |
| Ft. Lauderdale (FLL) | | Daily | 1hr 40min |
| Ft. Lauderdale (FLL) | | Daily | 1hr 40min |
| Ft. Lauderdale (FLL) | | Daily | 1hr 40min |
| Ft. Lauderdale (FLL) | | Daily | 1hr 40min |
| Halifax (YHZ) | | Sat | 5hr |
| Houston (IAH) | | Daily | 3hr 20min |
| Los Angeles (LAX) | | Fri, Sat | 5hr 40min |
| Miami (MIA) | | Daily | 1hr 43min |
| Minneapolis (MSP) | | Mon, Tues, Wed, Thurs, Fri | 4hr 40min |
| Montreal (YUL) | | Mon, Fri, Sat, Sun | 6hr 30min |
| Montreal (YUL) | | Sat, Sun | 4hr 35min |
| Montreal (YUL) | | Thu, Sat | 4hr 20min |
| New York City (JFK) | | Daily | 3hr 45min |
| New York City (JFK) | | Daily | 4hr 00min |
| New York City (JFK) | | Daily | 4hr 00min |
| Newark (EWR) | | Sat, Sun | 4hr 10min |
| Orlando (MCO) | | Daily | 2hr 00min |
| Orlando (MCO) | | Daily | 2hr 00min |
| Ottawa (YOW) | | Sat, Sun | 6hr 30min |
| Philadelphia (PHL) | | Daily | 3hr 55min |
| St. Louis (STL) | | Daily | 5hr 05min |
| Toronto (YYZ) | | Daily | 4hr |
| Toronto (YYZ) | | Daily | 4hr 5min |
| Toronto (YYZ) | | Daily | 4hr |
| Toronto (YYZ) | | Daily | 4hr 5min |
| Washington, D.C. (IAD) | | Sat | 3hr 45min |
| Winnipeg (YWG) | | Sat | 6hr 20min |
| Winnipeg (YWG) | | Sat | 6hr 15min |
Flight Service to Kingston Airport (KIN)
| | | | |
| --- | --- | --- | --- |
| Gateway | Airline | Schedule | Duration |
| Ft. Lauderdale (FLL) | | Daily | 1hr 45min |
| Ft. Lauderdale (FLL) | | Daily | 1hr 45min |
| Miami (MIA) | | Daily | 1hr 50min |
| New York city (JFK) | | Daily | 3hr 50min |
| New York city (JFK) | | Daily | 3hr 50min |
| Toronto (YYZ) | | Thu, Sun | 4hr 10min |
| Toronto (YYZ) | | Mon,Thu, Sun | 4hr 10min |
| Toronto (YYZ) | | Mon, Wed, Thu, Sun | 4hr 10min |
Flight Service to Ocho Rios Airport (OR)
| | | | |
| --- | --- | --- | --- |
| Gateway | Airline | Schedule | Duration |
| Miami (MIA) | | Wed, Sat | 1hr 57min |