The Sandals Foundation

WELCOME TO OUR WORLD
Since 2009, the Sandals Foundation a – 501 (c)(3) – has utilized our brand along with incredible support of team members, guests, donors and local & international partners to give back to Caribbean communities through initiatives that support, uplift and improve the lives of the region's people. Through the sheer power of volunteerism, outreach and love, we have fostered positive change through community, educational, and environmental projects that inspire hope.
VISIT WEBSITE
What's the Sandals Foundation
and what are we all about?
The Sandals Foundation is the philanthropic arm of Sandals Resorts International. It is the culmination of four decades of dedication to playing a meaningful role in the lives of the communities where we call home across the Caribbean.
To us, the Sandals and Beaches family includes more than just our team members across our resort brands and corporate offices… it reaches far wider to the local communities which is where our 15,000+ team members live. That's why we do all that we can to make a positive difference in the region – because we're family!
We understand that our plans, hard work, skills and innovations have made us the World's Best, but we have a responsibility to use these principles to carry the work beyond our resorts, too. By contributing through community outreach programs in the Caribbean, we hope to make our corporate social responsibilities reflect our responsibilities to our family.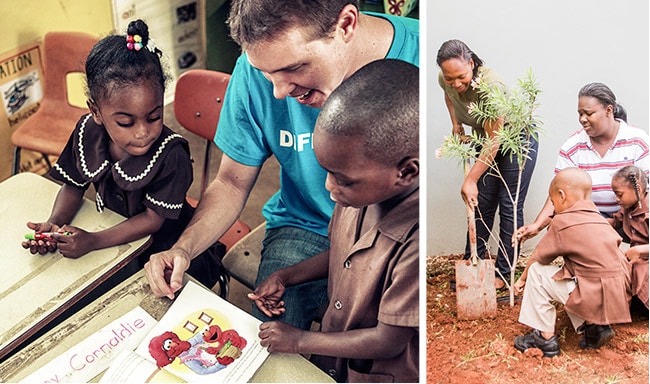 The Sandals Foundation is our way of better enabling us to take on more of what needs to be done in the islands where we operate by making the Caribbean the best that we can be. We also harness our passion, energy, skills and brand power to tackle issues under three broad headings, Our Community Our Education Our Environment.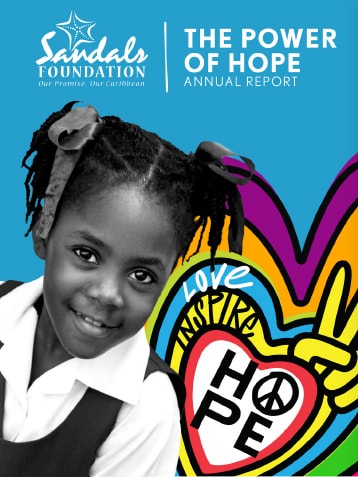 Seeing Is Believing, Read About The Work We Have Done
Through our commitment we have been able to impact so many lives across the Caribbean. The Sandals Foundation Annual Report contains some highlights from the 2018 to 2020 period in each of the Education, Community and Environment sectors.
VIEW ANNUAL REPORT
As the philanthropic arm of Sandals and Beaches Resorts, the Sandals Foundation fundamentally believes in the power of hope to transform Caribbean communities and lives. Over the years, we have worked tirelessly to positively impact the lives of over 1 million people across the Caribbean. With a focus on Education, Community and the Environment, we are committed to investments that create a positive and sustainable impact on the islands we call home. When you make a monetary, service, or in-kind donation, you can feel good knowing that 100% of your contribution goes directly to support our programs and initiatives. We invite you to join us and together, we can make a lasting difference for the people and places of the Caribbean!
Education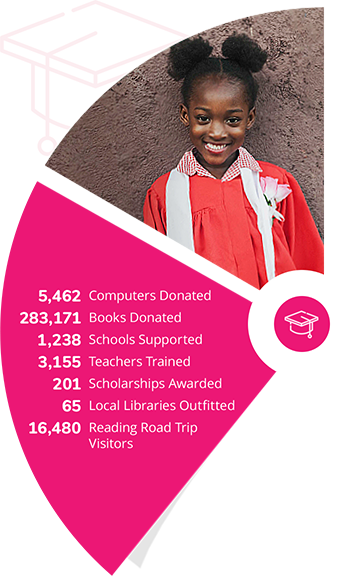 Education
We provide both children and adults with essential tools such as scholarships, supplies, technology, literacy programmes, mentorship and teacher training, to help them reach their full potential.
70,106
Pounds of Supplies Donated
205,555
Students Impacted Through Educational Programs
Community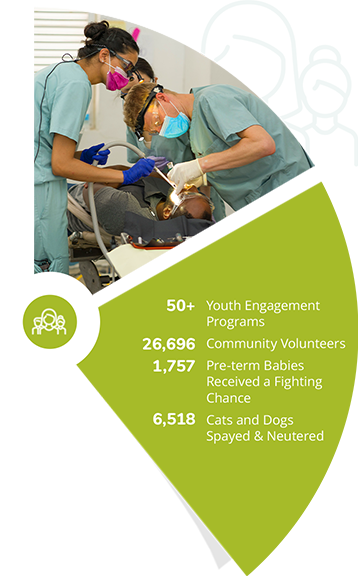 Community
From providing employment, healthcare and educational opportunities to tackling complex social issues, we strive to make our communities All That's Good through programs and partnerships designed to strengthen local regions.
331,996
People impacted through Community & Health Initiatives
265,004
People Receiving Free Eye and Dental Care
Environment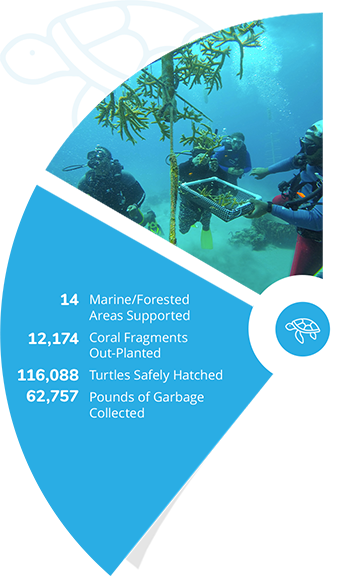 Environment
We promise to raise environmental awareness, develop effective conservation practices and teach future generations how to care for their communities and preserve our surroundings.
55,479
Environmental Awareness Reach
join our promise
together we make a difference in the lives of thousands.
---
The Sandals Foundation seeks to help fulfill the promise of the Caribbean community through investment in sustainable projects in education; environment and community which improve people's lives and preserve our natural surroundings.
100% of your donations is used to fund projects