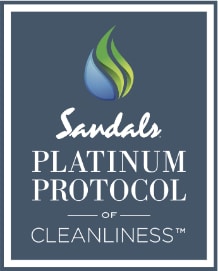 platinum protocol of cleanliness
Now more than ever, our existing industry-leading practices are being enhanced to include several pre-emptive cleanliness measures, guaranteeing guests the peace of mind to enjoy their vacation with the utmost confidence.
Online Check-In
Guests now have the added convenience to check-in online, letting them skip the front desk and go directly to their room.
CHECK-IN ONLINE
Airport Transfers
We have reduced the number of guests transported in every type of vehicle to ensure proper social distancing. Some room categories even include private transfers in luxury cars.
Guest Rooms and Bathrooms
We are introducing even more robust housekeeping measures to ensure a hospital-grade, sanitized environment.
All linens are cleaned every day, and all mattresses and pillows have protectors that are disinfected daily. After every room is thoroughly cleaned, the door is locked, and a seal is to be placed between the door and the casing to certify that no one else has entered until the guests arrive. Accompanying bellman and/or butler will respray and disinfect both the inside and outside of door handle with disinfectant upon leaving the room.
IN-ROOM BARS & COFFEE TEA STATIONS

Cleaned and disinfected daily including refrigerator and microwave

ALL CLOSET ACCESSORIES

Cleaned and disinfected daily

AIR DUCT

Sanitized for each arrival

HARD SURFACES

Cleaned and disinfected daily

TELEVISION AND ALL ELECTRONICS

Cleaned and disinfected daily

UV LED LIGHT

Used to validate cleanliness

BED FRAME & FURNITURE

Cleaned and disinfected daily

ANTI-BACTERIAL GELS AND SOAPS

Replenished as needed

CARPETING AND FLOORS

Swept, steamed and sanitized daily

SOFT FURNISHINGS

Washed and steam cleaned with handheld steamer

BEDDING AND MATTRESS

All bed linen is laundered and changed daily. Use of mattress and pillow protectors

SHOWER AND/OR TUB

Cleaned and disinfected shower walls, faucets, floor with the approved multipurpose cleaning and disinfectant

HAIR DRYER

Cleaned and disinfected daily
READ MORE
Restaurants
We have implemented several additional measures specifically designed for all our restaurants and kitchens.
All Team Members wear gloves and protective face masks

Restaurant host will provide sanitizer at the entrance to all restaurants and require guests usage

Menus will be cleaned and sanitized after each guest/table use

All tables and chairs and service stations will be cleaned with a detergent solution and sanitizer after every use

Social distancing practices will be adhered to and monitored in all dining outlets

All frequently used machines, such as coffee, popcorn, ice cream, cookie jars, etc., will be cleaned and sanitized according to triple-check protocols

Glassware will be removed from soda machines and placed behind bars

All landline telephones will be sanitized regularly throughout the day

All condiment bottles and salt and pepper shakers will be cleaned and sanitized after every individual use

Buffets will no longer offer self-service and instead will be served by an attentive staff member

All food preparation and storage surfaces will be sanitized regularly throughout the day
READ MORE
Bars
Whether it's a chic and sophisticated piano bar, a swim-up bar or a casual beachfront bar, we've implemented new practices.
All Team Members wear gloves and protective face masks

All bottles, bar equipment, beer taps and soda dispensers are sanitized

Doors will remain open to allow for maximum air flow

All bar stools to be six feet apart and grouped in twos

Bar stools and countertops are sanitized on the half hour, around the clock

All bar glassware are washed in dishwashers only

Ensure disposable cups are available at all bars

Floors are disinfected throughout the day

Porters/cocktail servers to wash hands after picking up glasses, etc.
READ MORE
Pool and Beach Areas
These areas are where our guests will most likely spend most of their vacation time. We're making sure they're thoroughly cleaned.
Water quality tests to be conducted for all pools, Jacuzzi®, hot and cold tubs, in accordance with a triple-check system, every hour throughout the day

Pool chairs will be sanitized every morning before use, and again after guest changeovers, and will be separated according to physical distancing guidelines at six feet apart or greater

Pool cartridge filters, backwash sand filters and strainers to be cleaned and disinfected with the addition of Chlorine solution via the access trap

Pool floats and any pool activity equipment will be disinfected daily

Pool decks will be sanitized daily

Pool and Jacuzzi® chlorine readings will be recorded every two hours and not drop below three parts per million (ppm)

Beach chairs to be sanitized every morning before use, and again after guest changeovers and will be separated at six feet apart or greater
READ MORE
Water Sports
Specific cleanliness procedures have been established to reassure our guests participating in any water sport activity.
Countertops, pens, clipboards, picnic benches to be sanitized after each use

Weight belts, regulators and dive masks to be left in sanitization bucket onboard after use

All masks to be placed in sanitization solution and liquid detergent and visible to guest

All Team Members will wear masks/face shields and sanitize hands while interacting with each guest

Dive pool deck will be sanitized daily

Doors will remain open for airflow

All tanks, seats and vessel bathrooms will be sanitized before and between trips

Wetsuits, fins and jackets will be taken back to the dive shop by guests and placed in sanitization solution

Tanks will be set up 6 feet apart on dive boats

Boat manifest to be adjusted to limit occupants and accommodate the six foot rule in accordance with social distancing guidelines
READ MORE
Spa and Fitness Centers
Safety and sanitation in our Spas and Fitness Centers are essential for employees and guest's overall well-being.
Guests' temperatures will be checked prior to treatment as a precautionary measure

All team members and therapists will wear masks and gloves when carrying out most spa treatments

Proper cleaning and sanitization of treatment rooms, bathrooms and reception waiting areas will be conducted throughout the day

Therapists will frequently wash hands with soap and water, and sanitize between clients and prior to resuming treatment

Spa linens will be stored and transported in sealed bags/containers to enable minimal handling by Team Members

Massage tables, headrests and other wellness apparatuses will be thoroughly sanitized after use between clients

Hand sanitation stations will be available at the entrance to the spa and fitness centers

All equipment, surfaces and furniture should be cleaned and sanitized after use and every three hours

A distance of 6 ft. will be maintained at all times and guided by floor markers

All door handles and frequently touched surfaces should be cleaned and sanitized every three hours

Air conditioner units and filters will be cleaned and sanitized daily
READ MORE
Weddings and Events
Heightened health and safety measures to give brides and grooms peace of mind when they choose to get married at Sandals.
Whether you choose a Free Tropical Wedding or a Sandals Customizable Wedding, our Platinum Protocol of Cleanliness are in place so you can focus on what's most important: each other.
REDUCED VENUE CAPACITY

Sandals offers more choices in wedding venues, most taking advantage of fresh air and wide-open space. And we've reduced the capacity of all our venues, indoors and out, putting more physical distance between your wedding guests. Your guests will still have a picture-perfect view of your ceremony, but they'll be seated further apart for everyone's health and safety.

TABLE SEATING AND FOOD SERVICE

Sandals is reducing the seating capacity at your reception. Rather than tables set for 8 people, we'll have the same sized tables but only seat six guests per table. We're also eliminating buffets and specialty food stations to reduce the risk of cross contamination from guests. Plated dinner and all hors d'oeuvres will be served by Sandals staff. And all staff will be wearing face masks and gloves for your protection and theirs.

LIVE STREAMING

You can still share your wedding with the ones you love most, no matter where they may be, because at Sandals you're able to live stream your wedding ceremony and reception. LEARN MORE

PERSONAL USE MAKEUP KITS

To help you look your best on your special day, personal use makeup kits are available for purchase for all brides and their bridal parties who choose Red Lane® Spa to help them get a picture-perfect look. This ensures there's no cross-contamination during your professional makeup application at the Red Lane® Salon. Plus, these makeup kits are yours to keep, and can be taken home.
READ MORE
Staff Members
We're setting an even higher baseline for good health with new requirements for all staff members.
Wearing protective face gear and gloves at all times

Not wearing their uniforms while traveling to and from work

Having their temperature checked before beginning any shift

To ensure all team members stay healthy both in and outside the workplace, they will be provided with ongoing specialized training on prevention and sanitation practices at home
READ MORE